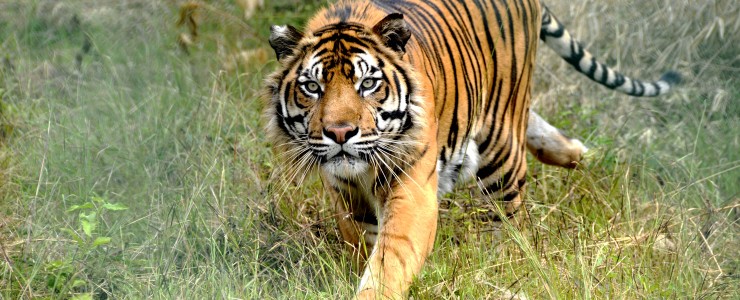 Driven by a burning bright passion to help wild tigers
Our CEO, Simon Clinton, talks to the Environmental Investigation Agency about his passion for conservation and what inspired him to set up Save Wild Tigers…
I was recently asked, in a live radio interview in Kuala Lumpur why an Englishman from London, with a background in marketing & advertising, producing TV ads for brands such as The Happy Egg Co, had come to Malaysia to help save wild tigers?
For me the answer was simple – I grew up in Malaysia; indeed, my first exposure to tigers was here as a child in the early '70s and, like so many people, I have been captivated by their magnificence ever since.
I have always been passionate about conservation; however, around five years ago I was asked to help market and launch Europe's first-ever tiger art exhibition, here in London at Asia House. Only then did the irony hit me, that this stunning tiger-inspired art exhibition, with some of the pieces dating back thousands of years, could soon be the only way in which we see tigers. Art and pictures … could this really be the legacy we leave our future generations if we do not act, and act quickly?
My reaction was to set up Save Wild Tigers in 2011 as a non-profit organisation, bringing big marketing thinking and creativity to the cause globally. No spin here – the situation is desperate; there are now fewer than 3,500 tigers left in the wild and 95 per cent of their traditional habitat has been destroyed. Having roamed the planet for over two million years, we now face the prospect that we have 10 years left to save the wild tiger, or 10 years until possible extinction. We need to act now, to cut through the negativity, the scepticism and sometimes the simple lack of interest and move forward to inspire and capture the public's (and core stakeholders') imaginations. We need to convert that enthusiasm into action and essential, critically required funds. Working very closely with our NGO partners, the Environmental Investigation Agency and the Born Free Foundation, we are forging a powerful team.
Read the full blog here: http://www.eia-international.org/driven-by-a-burning-bright-passion-to-help-wild-tigers
- See more at: http://www.savewildtigers.org/#sthash.JsgymxH9.dpuf